Today, I saw the announcement that Jeff Bezos is stepping aside (up?) to Executive Chair of the Board and promoting Andy Jassy to CEO. Okay… a bit of a surprise but logical after 27 years!
I then went on to read his letter to the +1 million Amazon employees. Pretty standard stuff about all the invention which he and Amazon has achieved. He then went on to say:
"As Amazon became large, we decided to use our scale and scope to lead on important social issues. Two high-impact examples: our $15 minimum wage and the Climate Pledge. In both cases, we staked out leadership position…"

Letter to Amazonians: February 2nd, 2021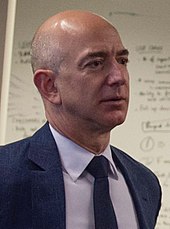 As an Amazon flex driver and knowing that many gig drivers doing Amazon Flex will not be making $15/hour and receive zero employee benefits, this ruffled my feathers a bit. Please see my analysis of the earnings potential of a flex driver. Here, I show based on my actual work and expenses, an Amazon Flex driver (in similar situations as mine) will be making about $12/hr and could be making as little as $3/hr.
Yes, not a typo: $3/hour… and again, that is with NO BENEFITS!
Please read my full post: Amazon Flex Base Pay: $2.63/hour
Pretty embarrassing I'd say.
---
Feature image: By Joe Mabel, CC BY-SA 4.0, https://commons.wikimedia.org/w/index.php?curid=73808200